Join us July 24-27, 2003 for a week of dynamic master classes presented by industry leading instructors teaching a host of various dance styles designed to motivate, challenge and inspire. This series is an excellent opportunity for advanced level dancers who are planning to audition for 2023/2024 OCPAA Company/OCPRO, as well as, advanced level students who want to take advantage of these amazing classes.
OCPAA is excited to offer classes taught by esteemed guest instructors, as well as, select Company and OCPRO classes taught by on-staff faculty.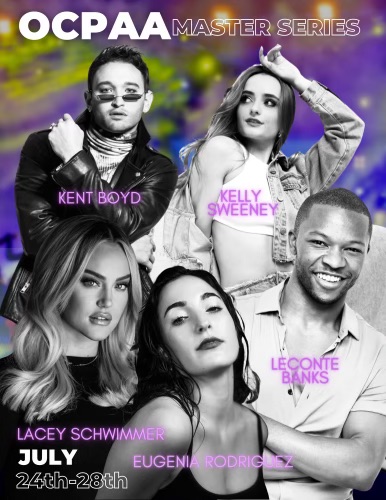 ENROLL
Students may be registered online by clicking ENROLL on the desired class below. All new families will be prompted to create a Parent Portal account. Current families who already have Parent Portal accounts may log in directly and search for this classes by filtering for the session "2023 Summer Master Classes".
Please note: All master classes are designed for dancers that are at a minimum competition dance technique level of intermediate. Dancers who have never competed or trained with competition teams would not benefit from taking the master classes. Please contact the studio to find out what classes your dancer should take instead.
*CLASSES WITH CROSS OVER AGES: Dancers competiting at the highest level for their age or close to age cut off should dance up/Example: Advanced Ages 11-3 vs Advanced Ages 13 & Above
If you would like input on which classes your dancer should take please email us.
Current Company and OCPRO Dancers: The schedule below replaces your normal team summer schedule for the week. There are no additional tuition fees. All recreational classes meet as usual but please note that optionals for your team may conflict with the master class schedule. The master classes should be attended.
Master Classes
OCPAA Faculty Classes
During Master Class week, we will be offering select Company and OCPRO classes taught by OCPAA faculty at a drop in rate of $20 per class. It is recommended that dancers have a minimum of one year of competition team experience if enrolling in classes listed for "intermediate" and above. Please visit the office or email us if you need input on the best option for your dancer.