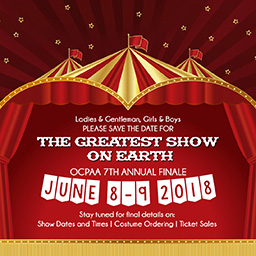 7thAnnual Finale | June 8-9, 2018
Dress Rehearsal June 6th | Picture Day TBD
Nechita Center for the Arts
COSTUME ORDERS AND REGISTRATION DUE TUESDAY, APRIL 17!

NEW EXTENDED DATE!
Costume Sheet – find your class costume and costume vendor so you can order the size you need (version 4)
Costume Order Form – submit to office by 4/17
Information for Parents – trust us, you want to read this
REGISTER TO ATTEND ON PORTAL BY APRIL 17!
Click to view "Classes & Events"
Click "Find Events"
Click on "2018 7thAnnual Summer Finale – Register to Participate"
Click "Add to Cart" button
Select the student(s) to register and list their names and shirt sizes
Click "Add to Cart"
Click the shopping cart icon at the top of the page and then click enroll – you will receive a confirmation email
Important Dates
April 16th – Register to participate on Parent Portal on "Events" Tab
April 16th– COSTUME ORDER FORMS DUE(costumes can not be guaranteed to arrive in time after this date)
May 4th– TICKETS GO ON SALE
Wednesday, June 6that Nechita Center – DRESS REHEARSAL (details to follow)
TBD – PICTURE DAY (details to follow)
Performance Dates and Times
NEW THIS YEAR– We will have one "Little Star" Show, one "Big Talent" show and one COMBINED show
Participation in both shows is MANDATORY for every dancer.
Friday, June 8th
5:00 PM – Little Stars – all age 5 and under dancers
Saturday, June 9th
11:00 AM – Big Talent – all age 6 and up dancers

4:30 PM – Little Stars and Big Talent – all dancers and all ages
Dance with your child at the Finale!
Dad's Dance 2018 – click here for more info!