714.637.4723
6501 E. Serrano Ave, Anaheim Hills, CA 92807
EVENTS
OCPAA Holiday Closure:
Studio Closed December 23 through January 2
Classes resume on Thursday, January 3
*no makeup classes available
The OCPAA Faculty and Staff would like to send a huge thank you to the amazing parents and other family members who supported their child's love of dance and performing this weekend at the recital! This Holiday Recital was our biggest yet and we are so proud of the fabulous job our students did. We know that recital weekends are exhausting but seeing all of your hard work in class over the last few months performed beautifully on stage for friends and family is well worth it! Congratulations on a job very well done!!
A special thank you goes out to the dressing room volunteers who helped not only their child but all children assigned to their room by making sure everyone was looked after and on stage. This is a huge job handled by very few people so thank you all so very much. The show would literally not go on without you!
Thank you also to those of you who contributed to our Hope For The Holidays donation drive servicing the Orangewood Foundation. Their trucks will be stopping by the studio today to pick up all the items.
If your child left anything behind please check in the office starting on Tuesday of this week. Likewise if you took home anything left by others in the dressing rooms you may return them to the office starting Tuesday.
The faculty is looking forward to closing out 2018 with fun times in class and we can't wait to start 2019 off with all of our students and to start getting ready for the big summer Finale Recital in June!
Happy Holidays!
OCPAA
Tickets for our recital "Hope For The Holidays" are on sale NOW.
This is the link to purchase the tickets:
https://sa1.seatadvisor.com/sabo/servlets/EventSearch?presenter=LHSOC&event=OCPAA&tck=true
Tickets sell out quickly – pricing increases by $5 on 12/1. Please feel free to forward this link to friends and family who would like to attend.
Please remember that all students will perform in 2 shows – their age level performance and the combined performance. Also, the following classes will perform in ALL 3 shows:
All Hip Hop 4-8 classes
Boys Hip Hop 4-8 class
Voice all classes
Questions about the recital? Learn everything you need to know in our "Parent Information" document.
Backstage Parent Volunteers
If you would like to volunteer to help students backstage during any of the 3 performances of the Holiday Recital please carefully review the attached "Parent Volunteer Agreement" and then proceed to our signup.com to select where and when you would like to volunteer.
CLICK HERE TO VIEW OUR SIGNUP TO HELP BACKSTAGE – http://signup.com/go/CGHnyhV
As a reminder, OCPAA staff is not with students in the dressing rooms. Parent volunteers stay with the students and hand them off to the teachers for their performances. Most parents choose to watch one performance and help back stage for the other. Please get to know the other parents in your classes so you can help each other out.
The show times for your reference are as follows:
Saturday, December 15th
12:00 pm LITTLE STARS (all classes ages 5 and under + classes mentioned above)
Sunday, December 16th
12:00 pm BIG TALENT (all classes ages 6 and up + classes mentioned above)
4:30 pm COMBINED PERFORMANCE (all classes and ages)
Ticket prices start at $15.00 each – prices increase by $5 each as of 12/1
Tickets will sell out soon so make sure you purchase early or you may risk not being able to watch the show
Tickets are digital/print at home
OCPAA does not handle the ticketing service, it is outsourced, and therefore we cannot assist with refunds, exchanges, issues or questions regarding the purchase or management of the tickets. Please contact the box office directly at:

714-282-4699 or

boxoffice@lhsoc.org
Summer Events at OCPAA!
Keep dancing this summer at OCPAA! All classes continue as scheduled plus we have other fun activities that are open to all dancers!
Summer Dance Camp
Register now for our upcoming week long dance camps!
Lacey Schwimmer Ballroom Master Class
Click the links below and enroll now to learn from one of the nation's top Ballroom dancers and instructors!
Ages 9-12 from 6:00 to 7:30 PM
Ages 12 & Up from 7:30 to 9:00 PM
Lacey Schwimmer is perhaps best known for her success as a finalist on Fox's So You Think You Can Dance (season 3) and as one of the most popular professional dancers on ABC'sDancing With The Stars (six consecutive seasons).
Lacey has choreography and artistic direction credits on DWTS, Strictly Come Dancing, and So You Think You Can Dance. Other choreography credits include Las Vegas shows Frankie Moreno Live and Pin Up starring playmate Claire Sinclair as well as Holland America's Dancing with the Stars at Sea and Lions Gate's Dancing with the Stars workout DVD.
She has worked with Grammy award winning artists such as Christina Aguilera, Nikki Minaj, LMFAO, One Republic, Reba McEntire, One Republic, Backstreet Boys, and New Kids On The Block , etc.
Lacey is currently a guest designer for Discount Dance Supply for her signature line.
In addition to Lacey's industry choreography she has created many award winning Contemporary, Hip-Hop, Jazz, Latin, Swing, and Ballroom pieces for competition, and has won multiple U.S. and World titles for Swing dance and International Latin.
She owns and co-directs The Dance Center, a competitive powerhouse dance studio in Redlands, CA along with her famous dancing family and is continually proud and honored to educate dancers all around the world.
OCPAA 2018/2019 Season Company Auditions
Save the date for next season's company auditions! Email ocpaainfo@gmail.com to be put on the waiting list for more information. Check back here later in the summer for more details!
Tickets Now On Sale For 2018 Summer Finale
Tickets are now on sale for our 2018 Summer Finale "The Greatest Show"! Please feel free to share this link with your friends and family who may want to attend. Tickets range from $15-$18 based on location.
For your reference please note the following:
Friday, June 8th at 5:00 pm – LITTLE STARS SHOW
All classes age 5 and under, plus Tumbling 5 and under, ALL Voice classes
Saturday, June 9th at 11:00 am – BIG TALENT SHOW
All classes age 6 and up, plus Tumbling 6 and up, ALL Voice classes, ALL Hip-Hop classes (All boys and coed classes)
Saturday, June 9th at 4:30 pm – COMBINED LITTLE STARS AND BIG TALENT SHOW
All classes, all ages participating in recital including Hip-Hop and Voice. NO TUMBLING CLASSES WILL PERFORM.
All dancers will be performing in 2 shows. Tumbling is only in the specific age group shows.
7thAnnual Finale | June 8-9, 2018
Dress Rehearsal June 6th | Picture Day TBD
Nechita Center for the Arts
COSTUME ORDERS AND REGISTRATION DUE TUESDAY, APRIL 17!

NEW EXTENDED DATE!
Costume Sheet – find your class costume and costume vendor so you can order the size you need (version 4)
Costume Order Form – submit to office by 4/17
Information for Parents – trust us, you want to read this
REGISTER TO ATTEND ON PORTAL BY APRIL 17!
Click to view "Classes & Events"
Click "Find Events"
Click on "2018 7thAnnual Summer Finale – Register to Participate"
Click "Add to Cart" button
Select the student(s) to register and list their names and shirt sizes
Click "Add to Cart"
Click the shopping cart icon at the top of the page and then click enroll – you will receive a confirmation email
Important Dates
April 16th – Register to participate on Parent Portal on "Events" Tab
April 16th– COSTUME ORDER FORMS DUE(costumes can not be guaranteed to arrive in time after this date)
May 4th– TICKETS GO ON SALE
Wednesday, June 6that Nechita Center – DRESS REHEARSAL (details to follow)
TBD – PICTURE DAY (details to follow)
Performance Dates and Times
NEW THIS YEAR– We will have one "Little Star" Show, one "Big Talent" show and one COMBINED show
Participation in both shows is MANDATORY for every dancer.
Friday, June 8th
5:00 PM – Little Stars – all age 5 and under dancers
Saturday, June 9th
11:00 AM – Big Talent – all age 6 and up dancers

4:30 PM – Little Stars and Big Talent – all dancers and all ages
Dance with your child at the Finale!
Dad's Dance 2018 – click here for more info!
SAVE THE DATE for the Greatest Show On Earth – our 7th Annual Summer Finale!
Friday, June 8th and Saturday, June 9th, 2018
Stayed tuned for more details on the dates and times of the shows, costume information and ticket sales. Please note that students are expected to perform in two shows. Not all classes participate in our recitals. A complete list of participating classes will be released shortly. We hope to see all of our amazing dancers on stage!
DANCE WITH YOUR CHILD ONSTAGE AT THE RECITAL!
DAD'S DANCE 2018
Who: Open to all OCPAA students and their dad or father figure
What: A special dance choreographed by our amazing OCPAA instructors, Miss Candice, Miss Amy G. and Miss Rachel M., and performed at the recital by the dads of OCPAA! No dance experience required – only the desire to create an unforgettable experience with your dancer in front of 800 of your closest friends and family!
When: The Dad's Dance will perform at ALL of our recital shows (up to four shows) on the weekend of June 8-9, 2018. Once the dates and times are confirmed everyone will be informed.
How: If you would like to participate please fill out the form below making sure to indicate your shirt size ($25) and your email address so you can be included on all the information. Attendance at all of the rehearsals is not mandatory but highly recommended. The last two rehearsals will be with your dancer.
REHEARSALS – FRIDAYS – 7:00 pm to 8:30 pm
Dads Only
Friday, April 20th
Friday, April 27th
Friday, May 4th
Dads and Kids
Friday, May 11th
Friday, June 1st
Click HERE for the form to turn in
Winter Studio Closure
Please make note of our upcoming Winter Studio Closure
Friday, December 22nd to Wednesday, January 3rd: CLOSED
Classes resume on Thursday, January 4th.
SaveSave
2017 Holiday Recital Ticket Price Increase
Our early bird ticket pricing will end soon! As of December 1, 2017 all ticket prices will increase by $5 each. Purchase your tickets ASAP to save! Entrance to the theater will not be permitted without a ticket and this will be strictly enforced. No one may stand on the side of the theater or in the upper back portion. Parents helping back stage will not be permitted to stand in the wings and view the performances. Purchase tickets via this link: TICKETS
UPDATED INFORMATION FOR PARENTS
OCPAA Holiday Recital Ticket Sales
Tickets may be purchased at the following link:
Please note that the SHOW TIMES HAVE CHANGED. The venue has requested additional time for prep and clean up so we have slightly adjusted 2 show start times as follows:
Friday, December 15th
SHOW #1 6:00 pm – Little Stars Age 5 & under *note changed from 5:45 pm
Saturday, December 16th
SHOW #2 11:00 am – Big Talent Age 6+ *note changed from 11:30 am
SHOW #3 3:00 pm – Little Stars Age 5 & under *note same time
SHOW #4 6:30 pm – Big Talent Age 6+ *note same time
OCPAA Holiday Recital – EXTENDED ORDER DEADLINES!
Due to the displacement of many of our families and the closure of our studio during the recent fire we have decided to extend the order deadlines for the holiday recital as follows:
Costume orders due this FRIDAY, OCTOBER 20th
Ticket sales open on MONDAY, OCTOBER 23rd – 7:00 pm
Click here to see the Information For Parents document
Please see order forms below. You may scan and your completed order form to tammy.ocpaa@gmail.com. Please makes sure to check the costume listing to see what costume is required for your class.
IMPORTANT: if you know you will not participate in this recital please notify the studio so your teacher may be informed. Choreography for the dances is dependent on know which students are participating.
Class Costume Listing: Click here
Costume Order Form: Click here
Weismann Size Chart: Click here
Curtain Call Size Chart: Click here
"Oh, What Fun!" – 2017 OCPAA Holiday Recital
Please save the date for our 2017 OCPAA Holiday Recital – "Oh, What Fun!"
Friday, December 15th
5:45 pm – Little Stars: ages 5 and under
Saturday, December 16th
11:30 am – Big Talent: ages 6 and up
3:00 pm – Little Stars: ages 5 and under
6:30 pm – Big Talent: ages 6 and up
Please see the following documents for more information on this recital including costumes, tickets and more!
We can't wait to see all of our dancers shine on stage this December!
SaveSave
New Parent Information Meeting
Don't miss an informational meeting on Monday, July 31 at 7:30 pm at OCPAA for all new families joining our Advanced Company and Dance Club.
See you there!
Information is now available for our 2018 Season Company Auditions!
Check our our COMPANY AUDITIONS page for more details
Introducing DANCE CLUB!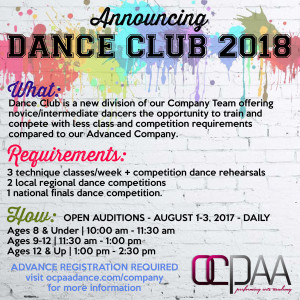 OCPAA Pre Audition – SUMMER SERIES
July 24-28, 2017
Don't miss out on the chance to take classes from our nationally award winning faculty and an amazing line-up of some the best and most sought after teachers in the industry! It is not required to audition for OCPAA Company in order to take these classes but those students who are auditioning for the 2018 season we highly recommend using these classes as a way to prepare.
JAZZ | BALLET | HIP-HOP | CONTEMPORARY FABULOUS FEET | TECHNIQUE | FLEXIBILITY TRAINING
ALL AGES AND ALL LEVEL WELCOMED!
Check out the flyer by clicking here and stayed tuned for registration details!
OCPAA 2018. All rights reserved.